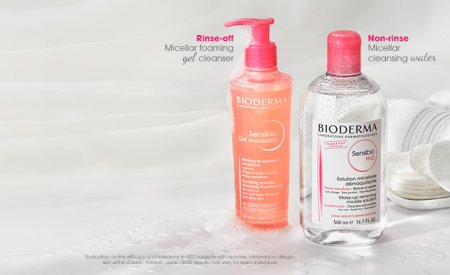 Calm skin irritation with every cleanse
100% Less Itch1
77% Less Tingling Sensation1
73% Less Tightness & Burning Sensation1
Did you know more than 60%2 of the world's population have sensitive skin?
Sensitive skin can be caused by several factors, such as the use of harsh cleansers, pollutants and the weather. Harsh cleansers, in particular, can cause our skin barrier to weaken, leading to skin sensitivity or irritation.
Some common symptoms of sensitive skin include:
- Itchiness
- Redness
- Tightness
- Burning and/or tingling sensations
(2) Burden of sensitive skin (BOSS) project, epidermiological study, 5000 subjects, France 2016
Cleansers can disrupt both the skin's barrier function and the skin microbiome which can lead to sensitive skin. This is why it is very important to pay attention to its formulation.
Cleansers are essential for removing dirt and grime from our faces, but choosing the wrong cleanser may weaken your skin barrier, leaving it vulnerable to external aggressors. As such, it is crucial to choose one that is gentle on sensitive skin to protect your skin barrier.
A good cleanser for sensitive skin should:
- Have a pH similar to healthy skin (pH5.5)
- Contain non-irritating surfactants
- Be fragrance-free
- Have minimal ingredients and at the optimal dose
Sensibio H2O 
Did you know that BIODERMA invented the world's first micellar water back in 1995? Today, 1 bottle of Sensibio H2O is sold every second* worldwide!

Formulated with only 10 dermatological-grade ingredients, this award-winning non-rinse micellar cleansing water soothes and calms even the most sensitive skin, while effectively removing dirt, impurities and pollutant particles PM2.5-13 from face, eyes, lips and neck. Its ultra-gentle and high tolerance formula cleanses & strengthens the skin barrier overtime.
Sensibio Gel moussant
This rinse-off micellar foaming gel cleanser intensely hydrates while preserving the skin barrier. Formulated with the same micellar technology, Sensibio Gel moussant is also enriched with coco glucoside and glyceryl oleate - active ingredients with lipid-restoring properties - leaving your skin feeling soft, supple and comfortable with each cleanse.
Both Sensibio cleansers have a pH5.5 and fragrance-free formula that respects your skin barrier. Use them to cleanse your face daily in the day and night for healthy, soothed skin! 
No paraben, fragrance, soap and alcohol. Dermatologically tested. Non-comedogenic. Excellent skin & eye tolerance.
* Beauty Inc WWD 2020, IQVIA EU 2019, Sell-in Data 2019, YouGov 2019
(3) Evaluation of anti-pollution efficacy of Sensibio H2O, test on 12 volunteers, CIREC France 2017
Your complete skincare routine
Cleanse, soothe and protect sensitive skin daily with our Sensibio range. 
Cleanse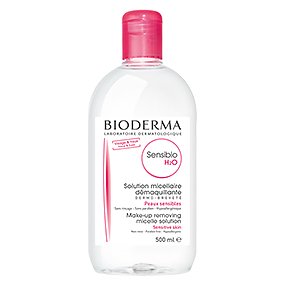 Sensibio H2O (Non-Rinse Micellar Water)
Cleanse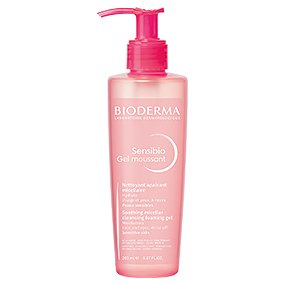 Sensibio Gel moussant (Rinse-off Foaming Gel Cleanser)
Tone
Sensibio Tonique (Toner)
Treat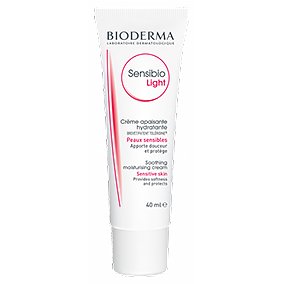 Sensibio Light (Lightweight Moisturiser)
Treat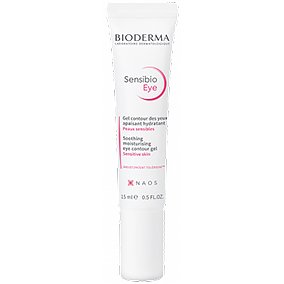 Sensibio Eye (Eye Gel)
Suncare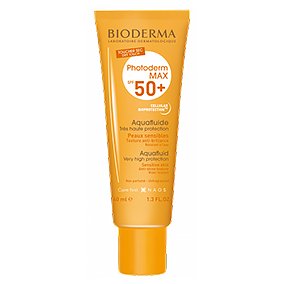 Photoderm MAX Aquafluid SPF50+ (Suncare)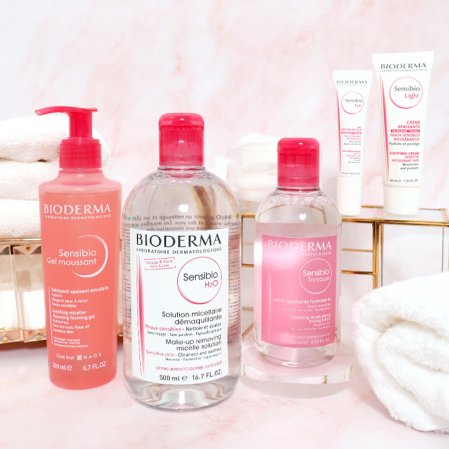 Daily Skincare
Sensitive skin
Soothe sensitive skin with Sensibio range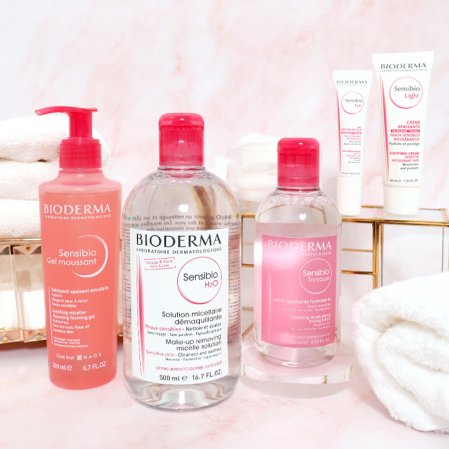 Formulated for sensitive and intolerant skin, our Sensibio range helps to calm skin irritation while strengthening the skin barrier. This range includes cleansing and skincare products containing our D.A.F. Patent, which helps increase the skin's tolerance threshold while reducing skin reactivity and sensitivity.
Sensibio products contain no paraben, fragrance, soap and alcohol.